The firm SOCIEDAD ANONIMA SINARD started out in business in the year 1949. Today, after more than 65 years in which it has cemented its position as a specialist firm in the industry, S.A. SINARD remains true to its initial goal of providing service and satisfaction for its customers.
Specialists in spring steel stamping with heat treatment, S.A. SINARD offer to customers a comprehensive solution: from designing and making dies to stamping pieces and subsequent heat treatment. This makes it possible to assure a high degree of flexibility in production and a rapid response to customers' needs.
Customers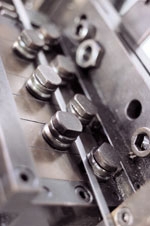 One of our firm's greatest assets is its customers. The confidence they place in our products shows how good they are and encourages us to carry on maintaining a level of quality in line with their requirements.
We are proud to have top-rank multinational concerns among our customers, leaders in their respective fields of activity. They include the following:
Automotive: vehicle manufacturers and their suppliers.
Toys: manufacturers of toys, pushchairs, trolleys and more…
Electrical appliances: manufacturers of electric motors and appliances.
Machinery: manufacturers of machinery, accessories and machine repairs in general.
Retail: industrial supplies, hardware retailers.
Electrical: distributors and retailers of electrical goods.
Others: metal furniture, locks, footwear manufacturers and more…
Among our products, special mention should be made of the following groups:
Quick attachment devices
Fixing elements for joining structures (metallic, concrete or wood) with all kind of electrical material, plumbing and false ceilings.
Special parts under drawing
We are ready to provide a complete solution in stamping pieces under drawing with the full guarantee of quality.